Cinnamon Works
serving vegan, Gluten-free, sugar-free, and good tasting regular Treats since 1983
Located in Pike Place Market, Cinnamon Works is one of the few scratch bakeries left in Seattle. Owner Michael Ruegamer opened the bakery's doors over 35 years ago when he bought a small storefront and turned his baking hobby into a new career.
Over the years, Michael, his wife Judy, and their daughter Gracie, have expanded their product offering of cinnamon rolls, whole wheat sticky buns and giant chocolate chip cookies to include baked goods sought after by those who cannot eat "just any cookie". People with gluten and dairy sensitivity can find what they want at Cinnamon Works.
Cinnamon Works reflects the creativity and healthy living of the city it's located in. The small team is constantly working on new recipes that not only taste delightful but that can be enjoyed by locals and tourists with food allergies. The bakery is located on the corner of Pike & Pine and the delicious scent of our giant cookies will lead you right to our counter.
Phone
(206)583-0085
EMAIL
cinnamonworkers@gmail.com
Location
1536 Pike Place
Seattle, WA
98101
Hours
M-F 7:30a-5p
Sa-Su 8a-5p
 
cookies
cookies weigh 1/2 lb unless otherwise noted
Regular
Chocolate Chip - classic, chewy and loaded with chocolate chips
Gingersnap - perfectly spiced and easy on the teeth
Snickerdoodle - soft, buttery, thick, and topped with cinnamon sugar
Pumpkin - adorable and available w/ buttercream
Pumpkin Chocolate Chip - dazzling and available w/ buttercream
Peanut Butter - made with crunchy peanut butter and baked to perfection
Oat Raisin - wildly fluffy & healthy enough to eat for breakfast
Monster - the cookie that has literally everything in it
Oat Coconut Chip - chewy & loaded with texture from the oats & coconut
Bull's Eye - our peanut butter cookie but topped with a tagalong cookie
Sugar-Free Chocolate Chip - void of sugar but not void of softness & sweetness
Sugar-Free Oat Raisin - round, fluffy and still sweet enough to please
Small Chocolate Chip - the same recipe but in a small size *2oz
Small Oat Raisin - the same recipe but adorably pocket sized *2oz
Gluten-Free
Pumpkin - impressively soft and available with buttercream frosting *6oz
Monster - the gf version that has literally everything in it
GF/VG Oat Raisin - the perfectly chewy cookie that will leave you wanting more *6oz
GF/VG Annie's Chip - a favorite that's easy on the eyes and even easier to enjoy *3oz
Vegan
Snickerdoodle - made with tofu & vegan butter for ultimate softness
Oat Raisin - the cookie that keeps a favorite regular coming back
Chocolate Chip w/ Walnuts - some would say it's better than the regular version
GF/VG Oat Raisin - the perfectly chewy cookie that will leave you wanting more *6oz
GF/VG Annie's Chip - a favorite that's easy on the eyes and even easier to enjoy *3oz
REGULAR
Zucchini
Pumpkin
Banana
gLUTEN-fREE
Zucchini
Pumpkin
Banana
GF/VG Cinnamon Swirl
VEGAN
Banana
Chocolate Banana Marble
GF/VG Cinnamon Swirl
Regular
Blueberry
Lemon Poppyseed
Apple Maple w/ maple frosting
Zucchini
Sugar-free Blueberry Bran
Gluten-Free
GF Zucchini
GF Apple Walnut
GF Blueberry
GF Pumpkin
GF/VG Cinnamon
Vegan
Pumpkin
Banana Chip
Almond Poppyseed
GF/VG Cinnamon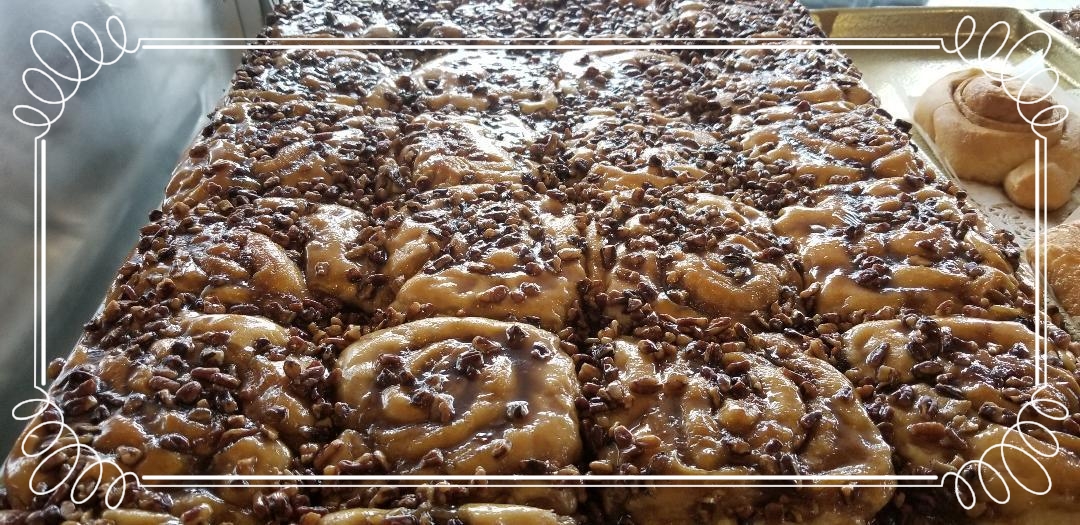 REGULAR
Plain Jane - our cinnamon roll without frosting
Plain Jane w/ Frosting - cinnamon roll with royal frosting
Pull Apart - 3 cinnamon rolls twisted together to make a lovely giant
Pull Apart w/ Frosting - a lovely giant made even better by adding frosting
White Sticky Bun - stacked cinnamon rolls coated with caramel and pecans
Whole Wheat Sticky Bun - dense rolls coasted with caramel and pecans
gluten-free
Cinnamon Roll - a tricky recipe that has been mastered to perfection *available with frosting*
Brownie - packed with chocolate and topped with walnuts
Macaroons - simple, adorable, packed with coconut, and fun to eat
GF/VG Granola - packed with spices, dates, orange, and more *contains honey
GF/VG/SF Lemon Blueberry Scone - for those with multiple dietary restrictions
vegan
Cinnamon Roll - a staff favorite that available with maple frosting
Lemon Poppy Bite - a small cookie topped with royal frosting
GF/VG Granola - packed with spices, dates, orange, and more *contains honey
GF/VG/SF Lemon Blueberry Scone - for those with multiple dietary restrictions
our coffee
There are a lot of options when it comes to quality coffee in Seattle and we feel confident in the coffee that we serve to our customers. Our beans come from the historic Vashon Island Coffee Roasterie just across the water from the market. Their coffee is rare, high mountain shade grown, and exquisite in flavor.
"There is nothing palatable about coffee that arrives in my cup through the destruction of natural habitat, wildlife, or the eradication of Indigenous cultures, traditions or people."
-Eva, Owner
coffee menu
We try to keep our coffee menu simple and the beans are so good that we try not to dazzle them up too much. We understand that black coffee isn't for everyone though, so we're happy to make you an americano, latte, cappuccino, breve, or a hot coco for the little ones. Soy milk and almond milk are available as substitutes. Additionally, we carry a variety of teas and syrup flavors.
Don't be alarmed if we ask you to first try a sample of our black coffee upon ordering an americano. We just really like our coffee and it's quicker for all parties involved. Keep an eye out for the bakery owner, Mike, holding a white 2 oz cup. If you're lucky he'll shout, "Hey! Try this!" and give you a sample as you walk by.
buy the beans
Not everyone has the time during their stay in Seattle (or heck, even living here) to make it out to Vashon Island. We tend to keep a good supply of both the pour-over and espresso beans in good supply. We sell 1 lb bags available in whole-bean or ground.
Please visit www.tvicr.com for more information.
Orders
Yes, we're located in Pike Place and are a popular destination for tourists but we also love serving quality goods to fellow locals. Our items are perfect for work meetings, birthdays, family get-togethers, and we also ship! Keep in mind that our bakery is small and because we want to provide our customers the freshest of items we only bake off what we plan to sell for the day. If you're planning on purchasing a box of items, please contact us in advance.
Our small team is always switching from ovens, to coffee, to customers, then back to ovens again, and we don't always have a free minute (or hand!) to answer the phone. If you'd like to submit an order, please send us an email including the following information:
Your name and preferred contact information
Items and quantity you're interested in
The date and time that you'll need these items for
Are we shipping or are you picking up
Dietary restrictions/questions
Please send us an email regarding your order at least 24 hours ahead of when you plan to pickup. We will respond promptly with the order total and additional questions.
cinnamonworkers@gmail.com
about the Owners & their farm
Mike has owned Cinnamon Works for over 35 years and while he is now "retired" you can find him during the wee hours of the morning working on the gluten-free cinnamon rolls and enjoying classics such as black coffee and the soundtrack of Grease. Originally from Montana, Mike worked as a history teacher, and then as a carpenter before opening his own bakery where he could pursue his passion of baking. Married (and co-owning) for almost 10 years now, Judy brings her own baking creativity to Cinnamon Works, manages the small team, and still finds time to lead their daughter's Girl Scout Troop into the world of wilderness and cookie sales. Before becoming an amazing mother and baker, Judy was living it up in New York City and worked as a nurse. The team takes full advantage of her medical and life advice. When the owners of Cinnamon Works aren't overseeing, baking, serving customers, and working on general maintenance of the bakery, they are busy tending to their charming farm on Vashon Island.
the sheep
The bakery takes the proverbial saying "waste not, want not" to the heart in their practices. While the best attempts are made to only produce what can be sold, sometimes certain leftover baked goods are used to feed the adorable sheep at the farm. These athletic sheep participate in the Vashon Island Sheepdog Classic.
zucchini
Zucchini is a prime ingredient in some of our favorite recipes and is grown at the farm on Vashon Island. In addition to the zucchini supply, the owners also grow tomatoes, cucumbers, onions, plums, and whatever else they manage to find time for.
Our favorite girl scout, gracie
Daughter of Mike & Judy, Gracie knows the ins-and-outs of the bakery and Pike Place Market. She regularly visits the bakery and enjoys munching on the vegan banana chip muffin and the vegan cinnamon roll. Gracie is quite the Girl Scout and thanks to her, we have a good supply of Tagalongs for our Bull's eye cookie.